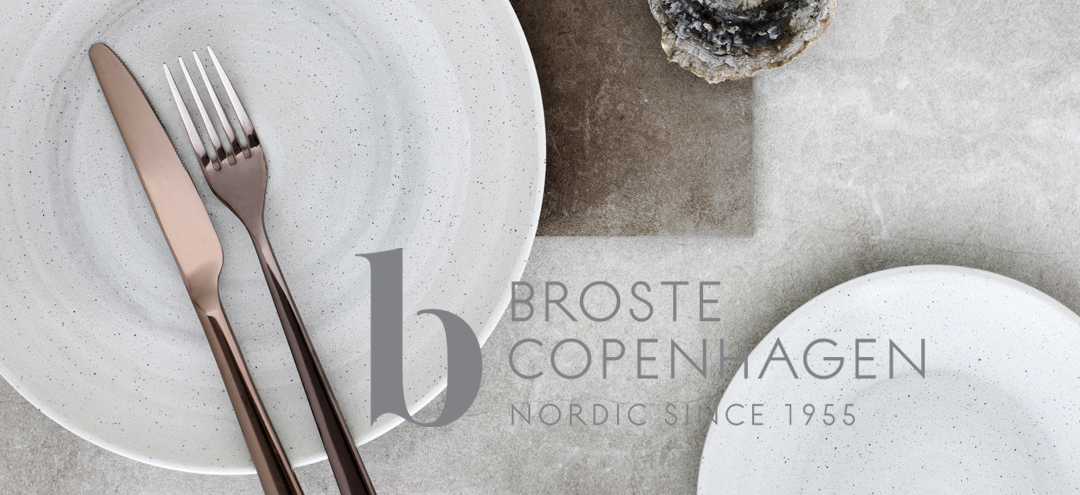 Whilst the name Broste Copenhagen is a byword for contemporary Danish style amongst designers, it remains relatively unknown in professional kitchens. With several distinctive collections in the stable this a must for chefs looking to plate on natural, organic and unique tableware.
The largest and most well-known ranges are the Nordics – Sand, Sea and Coal. Each piece is hand-finished giving a uniqueness to every plate, bowl, cup or dish. Fired to high temperatures these strong stoneware collections are a great solution for everyday dining or fine dining – try mixing them up and create your own collection. Dishwasher, oven, microwave and freezer safe.
Other ranges include the monochrome Esrum and Esrum Night collections. Cool, reserved flat plates mix with multiple bowl options to give a real nordic-noir feel – straight from the restaurants of Copenhagen. Once again each piece is unique with it's own distinctive finish and feel. Stoneware that is safe in the dishwasher and microwave.
Grød was born from a collaboration between Broste and the Danish restaurant from where it takes it's name. A small, beautifully calming and minimalist range of plates, bowls and cups that in the Broste tradition each keep their unique feel. Dishwasher and microwave safe.
Salt is a soft hued white porcelain collection of bowls, plates and cups that retains it's durability through a high temperature firing process. A real Scandinavian, minimalist design classic with nods towards industrial and canteen chic – use this across the menu and make a real statement. 
Broste Copenhagen has established itself as one of the leading interior brands in Scandinavia and has a history that dates back to 1955.   Based in Copenhagan, the dynamic and creative Broste team travels the world finding new inspiration and materials, but at the same time they have a great respect for Nordic tradition and constantly manage to develop their range with a blend of modern edge and classic vitality.  
Broste Copenhagen continually focuses on the high quality of its products and will always incorporate its well-known Nordic signature in the final design. The processing is gentle, so the original feel of the material and its character remain intact.   All things Nordic inspire the beautiful Broste tableware, whether that may be the weather, landscape, sea or a city. Traditional Nordic minimalism is explored, challenged and updated with a modern twist.