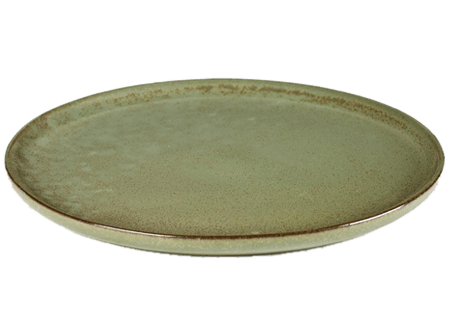 'Surface' Plate Large Camo Green 27cm
Serax
Stoneware
27cm
£22.50 exc vat each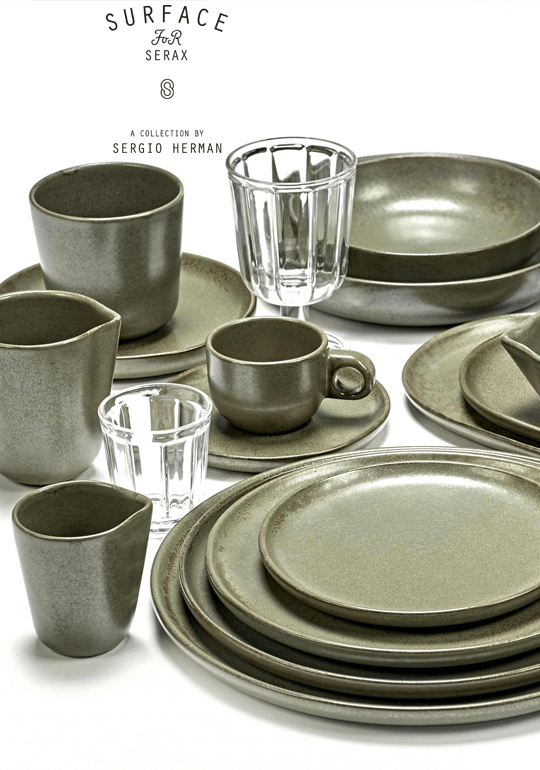 Surface
By Sergio Herman for Serax
Tableware from the extensive Surface collection is produced in earthy, interesting tones with a variety of bowls, plates, cups and mugs in multiple sizes.  Colours include choices of indi grey, camo green and rusty brown.
The designer, Sergio Herman, was inspired by the raw nature of Zeeland with its rough textures and beautiful imperfections.  As a professional chef and restaurateur Sergio Herman was excited to be given the opportunity to develop the Surface collection with Serax.  The renowned chef inherited his love of cooking after working alongside his father at the 'Oud Sluis' restaurant in the Netherlands.  After several years, in 1990 he took over the helm, earning 3 Michelin stars before moving on to many new high profile culinary adventures.
Measurements
Diameter 27cm
Height 1.5cm
Colour & Material
Stoneware, camo green. Due to the artistic approach of the designer and in order to achieve an artisanal look and feel, colour differences and glazing irregularities are part of the of the manufacturing process.
Care Instructions
Dishwasher and microwave safe.  Soft detergent in commercial dishwashers recommended.
Diverse tableware collections that represent unique shapes, materials and styles are key to the success of Serax within the hospitality sector.  Serax has established itself within a few years as a trendsetter within this industry and has gained worldwide recognition from renowned star chefs and hoteliers.
Brothers, Serge and Axel van Den Bossche, influenced by their mother's flower pot business, founded the company and commenced trading from a garage in 1986.  Since its humble beginnings over 30 years ago, Serax has grown into a multinational with more than 65 employees and a head office in Antwerp.