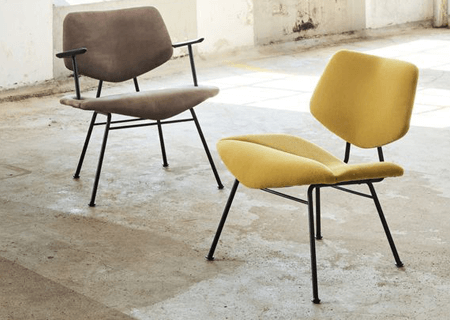 VERMUND
STEEL FRAME IN CHROME OR BLACK POWDER COAT
UPHOLSTERED WITH HIGH QUALITY TEXTILES OR LEATHER
OPTIONAL ARMREST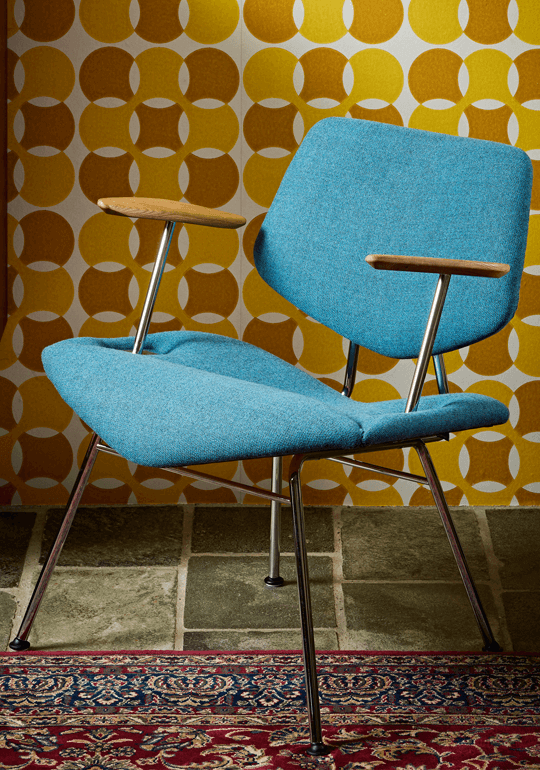 The VL135 'Cosy', a classic and very comfortable lounge chair, was originally designed by Vermund Larsen and introduced in 1960.  The updated version now available is very much like the original with minor adjustments for today's market, including a wider seat and enhancements to the overall design and proportions.
The frame is made from steel with a choice of chrome or black powder coat.
Stylish arm rests are optional.  Choose from natural oak or a black stained finish to match the chrome or black stained frame.
The VL135 has reversible duo gliders – felt for wooden floors and hard plastic for carpet.  Rubber gliders are available for tiles.
The seat and back are upholstered with high quality textiles of varying attractive textures and colours or with beautiful leather in appealing shades.
Contact us for a full consultation to discuss the various combinations available, including bespoke upholstery and the matching footstool VL136.
Measurements
Total Height 69cm
Seat Height 40cm
Width 64cm
Depth 68cm
Colour & Material
Steel Frame – chrome or black powder coat
Base – beech
Upholstery – various high quality textiles or leather
Care Instructions
LEATHER: Leather should be vacuumed with a soft brush regularly. This keeps the leather surface clean and free of debris. Avoid use of detergents.
TEXTILE: Vacuum the chair with a furniture brush or wipe with a clean, damp cloth or sponge.
FRAME: Wipe the frame regularly with a damp cloth.
Avoid use of detergent.
Danish company, Vermund, has revived the manufacturer, Vermund Larsen's original and ground-breaking furniture designs.  Vermund Larsen established the company Vermund Larsen A/S (VELA) in 1935.  After his death in 1970, the direction of the business changed to that of designing and manufacturing specialist chairs for the health sector, which continues to be successful.  Now the company, under the name of Vermund, has brought to life the chair designs of Mr Larsen from the mid 1950's and '60's, tweaked by its designers for today.
Vermund Larsen started manufacturing steel products in 1935 and, with renowned architect Ib Kofod-Larsen, constructed the first chair in Europe made from steel rods and fibreglass.  The chair received a lot of attention and publicity due to its effective way of distributing weight in the back and its slightly bowed seat which, when combined, provided tremendous support to the lower back area and wrapped itself around the body.