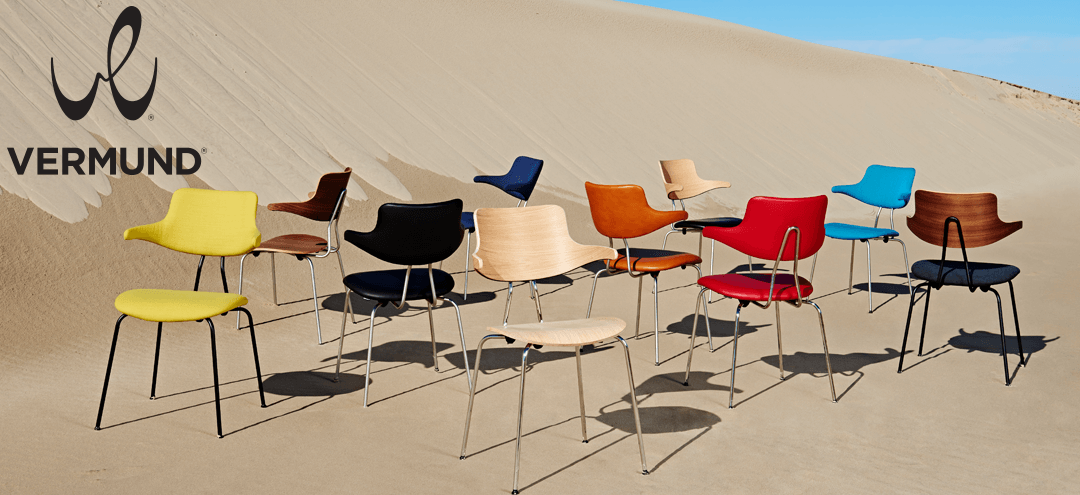 Danish company, Vermund, has revived the manufacturer, Vermund Larsen's original and ground-breaking furniture designs.  Vermund Larsen established the company Vermund Larsen A/S (VELA) in 1935.  After his death in 1970, the direction of the business changed to that of designing and manufacturing specialist chairs for the health sector, which continues to be successful.  Now the company, under the name of Vermund, has brought to life the chair designs of Mr Larsen from the mid 1950's and '60's, tweaked by its designers for today.
Vermund Larsen started manufacturing steel products in 1935 and, with renowned architect Ib Kofod-Larsen, constructed the first chair in Europe made from steel rods and fibreglass.  The chair received a lot of attention and publicity due to its effective way of distributing weight in the back and its slightly bowed seat which, when combined, provided tremendous support to the lower back area and wrapped itself around the body.
The chair was a huge success in Denmark and abroad due to the revolutionary shaping technique that resulted from the special material used.
Vermund Larsen was creative and entrepreneurial, growing his company and increasing production of his practical, innovative and quality designs.  In 1962 the company was responsible for the world's first office chair with automatic height adjustment using the gas cartridge system, and the ergonomically shaped seat and back. VELA was the only Scandinavian producer of this type of chair for the next 15 years.
Since his death the company (now run by his twin sons) has continued to focus on producing quality chairs with anatomically correct backs and seats.  The chairs are all designed and manufactured in Denmark, upholding the company's tradition for handcraft and beautiful furniture.