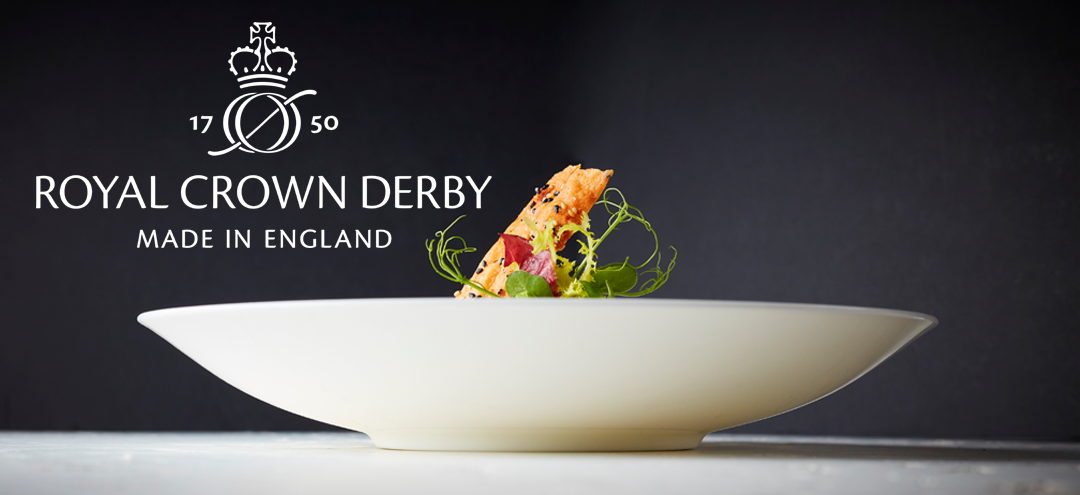 Everything that Royal Crown Derby does is based on a single guiding principle – to enrich lives by creating extraordinary dining experiences.
Performance is vital, Royal Crown Derby understands that the products it produces need to be stunningly beautiful, elegant to dine from but have unrivalled durability and functionality and value for money is essential.
From pure white to luxurious colours reminiscient of crushed velvet, there is a collection for all tastes within the Hospitality spectrum.
The Rebel collection delivers English fine bone china with an industrial-chic twist.  Developed by Alchemists for over 4 years, every piece is dusted by hand with Royal Crown Derby's secretive 'dragon skin powder'.  A delight for the culinary artist to work with and a striking visual memory for the diner.
E.C.O – Earth Coast Ocean is inspired by the rustic colours, textures and imperfections of nature's journey from land to sea.  Highly reactive glazes are brushed onto the highest quality fine bone china by the hand of Artisans, giving every piece its own identity.  Echoing the stunning landscapes of England's South Coast where Royal Crown Derby's china clay is mined, highly intricate finishes provide a captivating backdrop for any chef and will spark the imagination of every diner.
Art Glaze is a collection of contemporary, elegant yet highly functional shapes which feature exquisite, jewel-like, reactive glazes.  The four coloured glazes have been developed to be beautful individually, or in contrast with each other.  Special attention has been given to deliver a refreshing, high-end presentation platform to best showcase chef-driven menus.
Studio Glaze offers the best of luxury tableware with a relaxed twist.  Each piece is unique due to its hand-applied decoration.  Reactive pigments in combination with coloured glazes create a textured interplay of materials to deliver a silky sheen on the surface of each piece.
The Crushed Velvet collection has been purposefully designed to accentuate food to provide maximum visual impact.  Inspired by the grandeur of crushed velvet, this collection has a balanced use of texture, colour, pattern and proportion without being overwhelming.  Select pieces have full cover decoration which are perfect for elevating all variants of afternoon tea, where food styling options can be limited and visual impact can be lost.
Both Effervesce and Bark deliver a refreshing take on the understated elegance of white on white design, shimmering textures create an enchanting, tactile finish which helps to reduce the appearance of finger-marks.  All pieces are versatile, lightweight and incredibly strong making them perfect for both banqueting and restaurant service.
Whitehall is created around a single guiding principle; superiority comes by perfecting the finest details.  Each piece is meticulously polished and inspected to deliver sharp, clean lines and unrivalled purity, ensuring the diner sees nothing on the plate, except stunning food.  Ultra-strong glaze is carefully applied for an exceptional finish to the unmistakeable 'True White' fine bone china.
Establshed in 1750, Royal Crown Derby manufactures the worlds finest tableware in the heart of England.
Trend defining creativity, unrivalled quality and breath-taking service are the hallmarks of its reputation, earned over 270 years by serving distinguished clients including Royal Families and the world's finest hotels and restuarants.
Royal Crown Derby is proud to be a very old business doing very new things, relentlessly innovating, with the aim to disupt industry norms and surprise and delight its clients.
Highly skilled Artisans are employed to perform every element of the design and making process, with excellent quality standards being consistently delivered.
Only the finest materials are used, its fine bone china is translucent, has a true white colouration and is highly durable.   Sleek, elegant and lightweight profiles are created without compromising  endurance and performance.